My theatre teachers always told me that it takes twenty years of training to be a real actor. They also said that most Shakespearian characters shouldn't be played by anyone under 30. They didn't think a person under thirty could truly grasp the true complexity and understanding of most of Shakespeare's characters.
What they meant was that only time and experience could give a person all of the tools necessary to feel and act out the breadth of emotions and to know the depth of the types of characters that make up our world. And it's true – there are certain moments in time that I have experienced over the years that I could not have known existed as a teenager (as much as I thought I knew everything) – and there are moments and feelings I won't know until they happen. For example, I really have no idea what it's like to truly fear for my life, or to love a child more than I love myself. I can think back to times when that feeling could have been similar, and I can try to expound it in my mind 100 times – but I don't really know…not really. Not until I live it.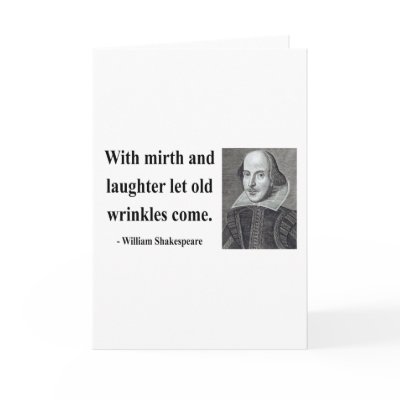 Shakespeare developed characters so strong and so dynamic that it literally takes age to figure them out. I'm looking forward to understanding Shakespeare.
Age is a wonderful thing. I'm excited to understand more.
Jaques. All the world's a stage,
And all the men and women merely players:
They have their exits and their entrances;
And one man in his time plays many parts,
His acts being seven ages. At first the infant,
Mewling and puking in the nurse's arms.
And then the whining school-boy, with his satchel
And shining morning face, creeping like snail
Unwillingly to school. And then the lover,
Sighing like furnace, with a woeful ballad
Made to his mistress' eyebrow. Then a soldier,
Full of strange oaths and bearded like the pard,
Jealous in honour, sudden and quick in quarrel,
Seeking the bubble reputation
Even in the cannon's mouth. And then the justice,
In fair round belly with good capon lined,
With eyes severe and beard of formal cut,
Full of wise saws and modern instances;
And so he plays his part. The sixth age shifts
Into the lean and slipper'd pantaloon,
With spectacles on nose and pouch on side,
His youthful hose, well saved, a world too wide
For his shrunk shank; and his big manly voice,
Turning again toward childish treble, pipes
And whistles in his sound. Last scene of all,
That ends this strange eventful history,
Is second childishness and mere oblivion,
Sans teeth, sans eyes, sans taste, sans everything.
As You Like It (2.7.143-70)